About us: Meet the runners
24 Feb 2017
With just over 2 months until the big day, we thought it was about time we introduced ourselves properly. As we've increased our training and spent more and more time together we've got to know each other really well - our strengths, weaknesses, likes and dislikes. During the hours of running there's plenty of time to 'put the world to rights', discuss kit and nutrition, take selfies, and sometimes, just run in silence and look around.
Finding the right kit has been a bit of a challenge at times, but get it right and it can make a world of difference - especially now we're breaking the 16 mile mark (approaching two and a half hours of running). The photos above were taken on a recent long run and shows what happens when you run out of things to talk about :)
Thanks again for all the support - it's a cliché, but it really does make a difference, and pushes us on when the legs are tired and the weather sucks. If you'd like to sponsor us, please click donate below:
So here it is our, Smash Hits style, "meet the runners" interview:
Elliot Wilsher
Age: 42
Job: Designer and Developer (Calvary Design) and Operations Director (Creation Fest).
Previous sporting achievements: Various triathlons and duathlons (mainly when I was a LOT younger), and a half marathon.
Favourite food: At the moment I'm eating anything I can get my hands on, but a really nice curry is hard to beat ... and I like dark chocolate :)
Why the London Marathon: I watched my Dad do it 8 or 9 times when I was young, so it's always been something I've wanted to do. London is an amazing city and the London Marathon is probably the most iconic marathon in the world ... I had to do it, even if only once.
Why Compassion: We sponsor a Compassion child, Calvine from Kenya, and really love the work they do. Compassion is also a partner of Creation Fest, and it's been amazing to see 100+ children sponsored over the last few years. I'm excited that the money we raise will go to build classrooms for children, and can't wait to see photos of the completed school.
Favourite quote / verse: "I want to thrive, not just survive".
Biggest challenge training for the marathon: Probably turned out to be trying to find a new pair of running shoes :) But also learning to love the cold weather and longer runs, and staying injury free.
Next race: Maybe a half marathon before London and then the London 10 in June.
Running shoes: I loved my Skechers Go Run Ride's but they were past their best and I felt I need more cushioning and support for the Marathon. I tired, and had to return a pair of Brooks Ghost and Nike Air Zoom Vomero 12 - both great shoes but not for me. Sweatshop in Teddington were amazing, and I'm now loving my Asics Nimbus 18's!
Other useful kit: I love my - Hilly TwinSkin socks, Camelbak, Nike base layer and FlipBelt (so simple but holds gels, phone, keys, and more).
Nutrition: Before a run (and most mornings) it's porridge with fruit. On a longer run we're using SIS Gels and water, but we'll probably also need to find some energy bars as we increase the mileage (craving something solid). Post run, basically if it's edible it's in danger ... but we do use The Protein Works strawberry and white chocolate, which is lovely and certainly seems to help recovery.
Asics Nimbus 18: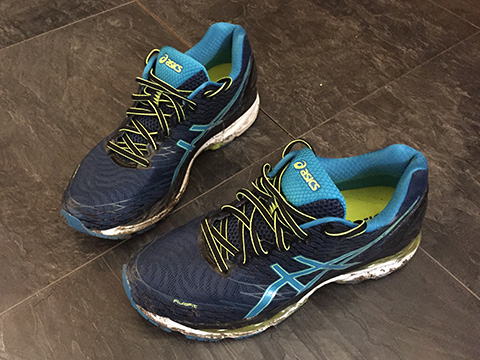 Phil Wells
Age: 35
Job: Police Dog Handler - London.
Previous sporting achievements: Runner up in the 3-legged race - Year 4 Primary School!
Favourite food: Everything bad… but a sucker for chocolate - but not dark.
Why the London Marathon: It's an iconic challenge in one of the greatest cities in the world.
Why Compassion: Elliot introduced me to Compassion through his work with Creation Fest. Also, as Chair of Governors at our local CE Primary School, I love that the money raised will go to help build classrooms for children who don't have a school.
Favourite quote / verse: "A thousand miles starts with a single step".
Biggest challenge training for the marathon: Running... my body wasn't designed to run!
Next race: Possibly a half marathon as Elliot says we need to train for 'race day!'
Running shoes: I started running in a pair of Nike Luna Fly trainers that I used to walk the dogs! Elliot thought it best I got some new ones, so I splashed out on a pair of Asics. During each run, at about 4 miles my feet were throbbing and toes in agony, so had to take them back. The lady in Sweat Shop said I had fat feet and needed some wide fits. So I ended up with New Balance 880's wide fit! Amaze-balls.
Other useful kit: My wife, Laura, brought me a pair of Skin tights for Christmas which are amazing. FlipBelt is an amazing piece of kit that I added to my kit bag. It's (as it says!) a belt that I can carry my gels, phone, keys and medical pump easily and with no issues. Lastly my trusted old CamelBak. On the longer runs both Elliot and I have struggled with fluid intake. Then I remembered I had this from my biking days and dragged it out and it works perfectly.
Nutrition: Being a Type 1 diabetic I've found it hard to keep my sugar levels from dropping dangerously low whilst training. Its been trial and error but I have settled for isotonic gels from SIS. It's one thing finding the gels, it's another working out when to take them. I've had a few 'moments' during training when I've left taking a gel too late and hypo'd… I've settled on taking a 60g gel every 4-5 miles which seems to have worked. Recovery protein has been part of my daily life for a while and I use Pure80 whey from The Protein Works. Strawberry and Cream is the best!
New Balance 880v6 2E:
Please support us
If you'd like to sponsor us, click donate below to go to our Virgin Money Giving page.
Donate
Home